Housing & Regional Economic Data →
Socio-Economic Data
Planners, grant writers, developers and researchers all need demographic data. Get your data fast, and free yourself to focus on higher level analysis and decision making.
For Your Project Area:
After you draw your project, we'll show your project and census geographies on a map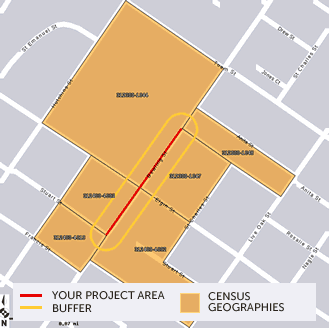 You Get This Data In Seconds:
We used to pull this data by hand. It took forever and was boring. That's why we built a system to pull cut-and-paste ready data in seconds.
Population Trends
1990 Count
2000 Count
2008 Estimate
Future Year Projection
% Changes
Minority Race/Ethnicity Counts
Black/African American
American Indian/Alaska Native
Asian
Native Hawaiian/Pacific Islander
Hispanic or Latino
Low Income Indicators
Median Household Income
Low Income Ranges
Population with Incomes below Poverty Level
Transportation Modes
Drove Alone
Carpooled
Public Transportation
Bicycled
Walked
Types of Disabilities
Sensory
Physical
Mental
Self-care
Go-outside-home
Employment
And more including Age, Languages Spoken and Data Citations.
See a Sample Get a real Socio-Ec Data report into your hands
Unlimited data starting at $20 a month Pricing & Sign Up
Data Sources:
US Census: 1990, 2000 & Estimates
State Data Center Population Projections
US Department of Transportation
US Department of Health and Human Services
US Department of Justice
National Adult Literacy Survey
NCES School District Data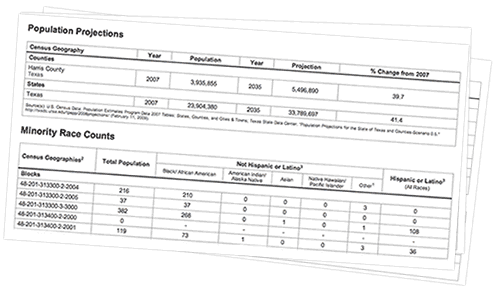 We don't make this stuff up. We get our data from the best sources.